Bareboating in the
British Virgin Islands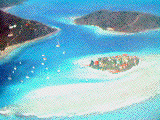 A little bit about our experiences bareboating in the BVI
One of our favorite pastimes is sailing. As we mentioned in our main page, we just created this site because we like sailing. If you need to be convinced, you may want to read a little about why we think sailing is so great. One of our favorite sailing destinations is the British Virgin Islands. We've been to the BVIs several times. Each time we've chartered a Moorings 445 with another couple for a total of 4 people on the boat.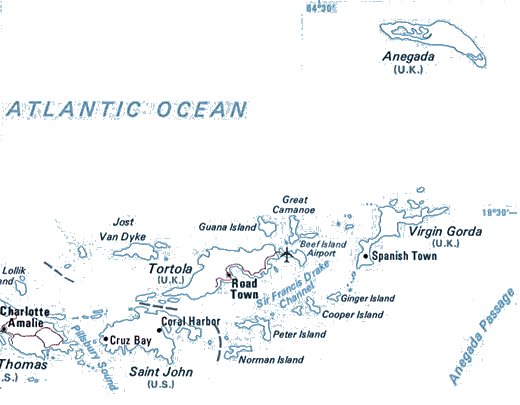 About the trip:

We packed up all our gear and flew on a red-eye flight from San Francisco to Miami to Puerto Rico to Tortola. We left at 9pm and arrived at noon the next day. Puerto Rico is served by many major airlines, but from Puerto Rico to Tortola (the main island of the BVIs), you will fly on a little puddle jumper from American or Liat.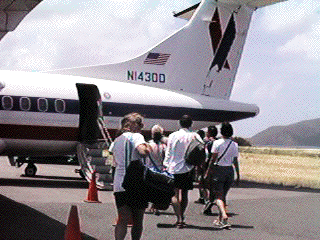 If you take an overnight flight like we did, we highly recommend that you spend a day on shore recovering before you take charge of your boat. On one of our trips, we arrived in Tortola at noon and took our boat out at noon the next day. For the entire trip I felt like we we're trying to catch up on sleep. On our most recent trip we spent two days on Virgin Gorda at Fischer's Cove before we picked up our boat, and when we got our boat we were already tanned, rested and ready.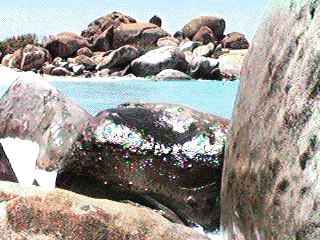 Devils Bay Virgin Gorda - a must see!
What to Expect

While chartering we ate, slept and lived on our Moorings 445 as we sailed from anchorage to anchorage in the BVI. If you are familiar with sailing then you can probably imagine what its like on the boat. A nice big boat, warm Caribbean waters, beautiful Islands... If you don't know about sailing, you should read about why we like it. Usually its that other stuff that is a little bit scary. Well, lets take them one at a time.
| | |
| --- | --- |
| | Sailing in the BVIs is wonderful. Great weather and tradewinds along with many anchorages makes for great sailing. The BVIs is a good place for your first exotic bareboating experience because the islands relatively protected and the navigation is pretty straight forward. Because the BVIs are so popular, anchorages sometimes fill up early. This can make an otherwise beautiful anchorage into the equivalent of a KOA campground. In the off season, you run the risk of encountering a hurricane (July-October). We recommend the shoulder seasons in early December or May as a reasonable compromise of weather and traffic. |
| | |
| --- | --- |
| | Eating is as you might expect in the islands. Its not the main reason to make the trip to the BVIs, but you can certainly have great meals there. The BVIs have many restaurants and grocery stores. We usually choose split provisioning which assumes that we'll cook most of our meals in the well stocked galley and have a few dinners ashore. We've had pretty good luck with food from the Moorings. They have it on our boat before our charter begins. If anything is missing for the list of items we have ordered, we simply tell them before we leave the dock and they will replace it or give us a voucher at the local grocery store. Restaurants are variable. On the good side, we've found everything from a few interesting little hole in the wall places with great Chicken Roti to a full on gormet restaurant in the BVIs. |
| | Money is very simple for Americans since the currency is the US dollar. |
| | We have found the people in the BVIs to be helpful and courteous. Crime seems to be fairly rare in the BVIs. |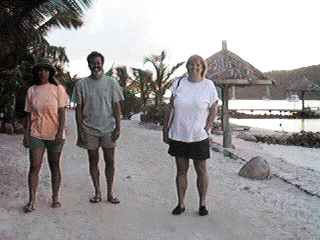 Happy crew wandering around at the Bitter End Yatch Club.